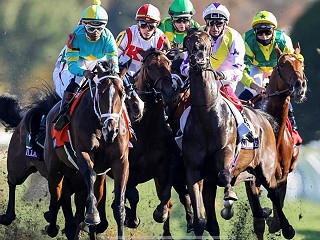 We have had a terrific six weeks, since our last report.
Lullaby Moon won the Group 3 Miesque Stakes at Chantilly, squeezing through a narrow gap on the rail a furlong out, to win going away. She has proven to be very tough over the last three months, winning three out of four for us, and deserves a holiday. The Fred Darling at Newbury next April looks a likely target.
Chamade made all in the Listed Gillies Fillies at Doncaster last Saturday, holding off our own Trefoil late on, for a deserved success. Trefoil goes to the paddocks now, but Chamade is likely to race on at four.
Tomfre racked up a three timer inside 3 ½ weeks, at Leicester and Doncaster twice, to round off a busy campaign. He has now reached a mark of 105 – and will be kept to soft ground next year, unlike most of this!
There were other good winning efforts from the likes of Bullace, Here And Now, Rome Imperial, Aleas, Scope, etc, to make it 16 winners home and abroad in October, and we have had 7 so far in November.
Air Pilot ran a huge race at Newmarket to finish second, beaten a neck, in the Listed James Seymour Stakes. He has now run in it five times, finishing second on three occasions, and winning it once, back in 2014. He is turning 12 next month, and could be retired, but that isn't certain – and we'll miss him if he is!
Devilwala tried to make all in the Group 1 Dewhurst, in the end running a gallant fourth. On the back of this he made the trip to Kentucky with New Mandate, for the Breeders Cup Juvenile Turf. It didn't work out for either horse.
New Mandate got baulked going to the first bend (see picture above), and was far too keen for his own good as a result. Whilst Devilwala missed the break and got too far back. He ran on and finished 8th, but it was frustrating nevertheless.
Fortunately the Brits did really well, with James Fanshawe and Kevin Ryan flying the flag. My own highlight was saddling Nigel Tinkler's Ubettabelieveit because he chose to lead him up himself, before he finished a brilliant 3rd in the Juvenile Sprint Turf.
Lastly, I cannot have it that racing is 'behind the times on racial diversity and equality'. https://www.racingpost.com/news/rishi-persad-racing-is-behind-the-times-on-racial-diversity-and-equality/458716
As far as becoming a trainer is concerned, the real issue is;
How does the sport make it viable again, for individuals to start training with little or no capital?
In 2000 there were 599 trainers, it dropped (post recession) to 540 in 2009, recovered slightly, then dropped again to the current 510.
The millennium number of 599 was because prize money then made training horses financially viable. When the funding of the sport is viable once more, then numbers will recover.